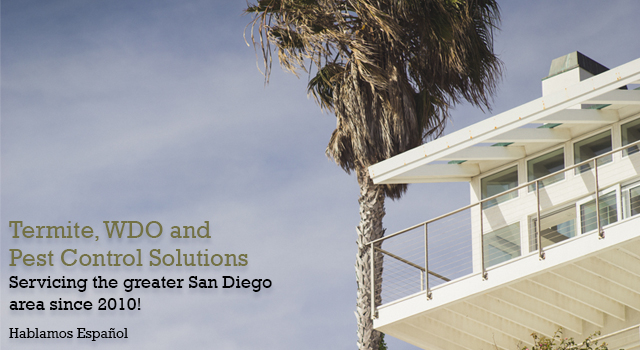 Termite and Pest Control / Extermination in
Alpine, CA
Alpine is a city that is not far away from the ocean and because of this there are a large amount of wood destroying organisms and household pests that love to live here. Our commitment here at GC Termite Control is to assist all Alpine residents in controlling these problems, which we have been happily doing since 2010. Our inspectors are fully licensed and certified, and we are bonded an insured for extra piece of mind. Here are some of the solutions that we can assist you with.
Alpine Termite and WDO Control
One kind of WDO or wood destroying organism are the Termite which cause an estimated $5 billion dollar spend for home owners in the United States. Termites themselves look like ants, in Australia they are commonly referred as "white ants". Not to get confused this WDO's are closely related to cockroaches. Here in Alpine, CA they will tend to be seen on areas with exposed wood like on park benches, commercial signs and especially on house eaves, attics and sub areas.
Your GC Termite Inspector will be able to locate any areas on your property either commercial or residential and assist you in eradicating them in Alpine County. There are 17 different types of termites usually found in the state of California and all of them leave different evidence behind for us to identify. There are three main types of termites to look out for in Alpine.
Drywood Termites

This is the most common type of Termite found in Alpine. They are easily recognized because of the hexagonal pellets that they leave behind after they have eaten your non-treated wood. A good way to test your wood against this WDO is to prove it or poke it with a screwdriver. Drywood Termites eat the wood from the inside so you will find pieces to be hollow if they have already passed through there. If you find any evidence that they have been there give us a call because termites don't just go away, they will keep eating they food source until someone exterminates them.

Subterranean Termites

The second most common type of termite found in Alpine is Subterranean Termites. This type is usually found in properties that have been built on raised foundations. This is because as the name states they are subterranean and can only survive underground. This is because of the high level of humidity that they need to survive. To get into your property they build Mud Tubes to maintain the required humidity. They can build this on walls, stucco cracks or on wood that is on contact with the ground.

Dampwood Termites

This type of termite is the third most common type of termites that exist in Alpine. These termites love high moisture conditions but do not need to be underground to survive. You will usually find them in wall voids close to a water leak. This gives them the perfect living conditions to survive and grow.
Besides termites there are other wood destroying organisms to look out for like: Wood Boring Beetles, Carpenter Bees, Fungi (commonly known as dry rot), and Carpenter Ants.
Living in Alpine is already expensive don't wait until your property has major damage. Having a GC Termite Inspector go and check your property at least once every two years will help you save thousands of dollars in the long run. Schedule your appointment online or give us a call at (619) 421 – 2101 and we will happily make a Termite Inspection appointment for you. This way you will have the peace of mind that your property is protected from this or any other wood destroying organism.
Alpine Pest Control
As we love living in Alpine, the pest love it as well. This is because of its high moisture level, nice sunny days most of the year, and of course lots of other people to talk to and in their case to bug. Don't let them get on your way, we are here to help you eliminate and control any pest problem that you might have. You will return to your normal life as quickly as possible. Here are some of the most common household pest that you will find in Alpine:
Household Ants
Spiders
Rodents
Cockroaches

German Cockroach
Smokey Brown Cockroach
American Cockroach
Oriental Cockroach
Brown Banded Cockroach

Pillbug / Sowbug
Millipede and Centipede
Earwig
Scorpions
House Cricket
Wasps
Bees
Fleas
Bedbugs
Pharaoh Ants
Yellow Jackets
Silverfish
Ticks
Pantry Pests
Carpet Beetle
The best way to be protected from these pests is to have a pest control service plan in place. One which will assess your specific situation, implement extermination and control solutions, and monitor year-round for any changes or attacks on your residence. This will create a protected perimeter around your residence that will keep them away, and that will exterminate any that try to come across it.
There are many solutions that a home owner can try before giving us a call, but if none of them work save the headaches. Give us a call today or send us a message from the form on the side, one of our experts will be there to gladly assist you in creating a protected perimeter with a GC Protection Plan for your residence in Alpine.